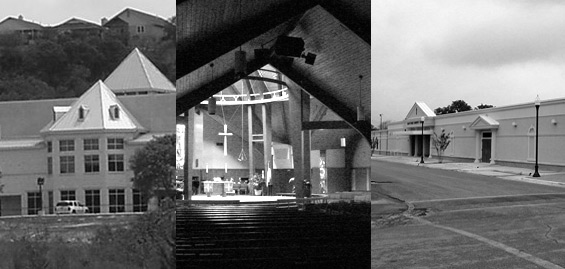 The History of Griffin + Jacobson Architects, LLC
Wesley C. Griffin and M. Dan Jacobson are the veteran architects of Griffin + Jacobson. But from the late 70s to 2005 they worked together with Don Tew under the name Tew Associates. After working for the City of Austin from 1972-1977 Dan Jacobson joined Don Tew as a graduate of the UT Austin school of architecture. A few years later Wes Griffin, also a UT graduate, came on board with Tew Associates. Over the next twenty five years they developed an efficient design flow and a reputation for honesty.
Churches and schools began to take notice as the three turned out project after project with striking results. Their unique style and ability to combine function with form attracted churches such as Hyde Park Baptist in Austin, Universal City First Baptist, and Kerrville Church of Christ. Leander ISD and Round Rock ISD were also attracted to their work, comissioning Tew Associates to design a number of high schools, middle schools, and elementary facilities.
Unfortunately, Wes and Dan's tenure at Tew Associates was ended in 2005 after the passing of Don Tew. Wes Griffin and Dan Jacobson now carry on the Tew Associates legacy in the same location as Griffin + Jacobson Architects, LLC. Thier faithful work and commitment to personal service and exellence remains. Most recently Griffin + Jacobson completed a 170,000 square foot middle school building for Round Rock ISD.