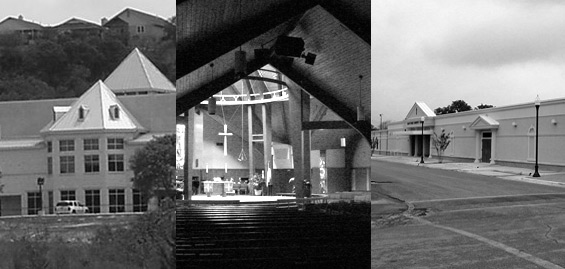 A Quick Look at Griffin + Jacobson Architects, LLC.
With over 30 years of experience designing large-scale school and church buildings, Griffin + Jacobson brings a seasoned insight unmatched in the greater Austin, TX area. It's this seasoned insight that has helped Wes Griffin and Dan Jacobson build a reputation of consistent personal service and building projects completed on time and within budget. Their familiarity with local contractors and builders means quotes are more accurate and projects progress more smoothly. And as a small firm of veteren architects, Griffin + Jacobson can provide the personal attention necessary to roll with unexpected changes that are bound to arise in building projects of all sizes. When you call Griffin + Jacobson, you can expect to talk with Wes Griffin or Dan Jacobson, not an intern. It's this nimble, personal character that makes Griffin + Jacobson so satisfiying to work with.
If you would like more information about Griffin + Jacobson's history as a firm, go to the history page. There are also example projects in the project gallery and if you have any questions that aren't answered on the website, just head over to the contact page and give Griffin + Jacobson a call.